Beyond Jack and Coke
by Geoffrey Kleinman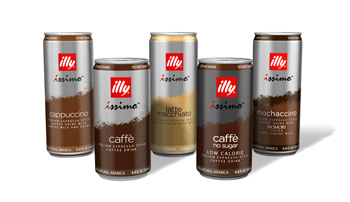 When it comes to making cocktails at home, it can be downright challenging to make anything beyond the standard spirit and a mixer. There's a reason why people drink Jack and Coke, Vodka and Soda, Gin and Tonic, and anything and Redbull - they are all extremely easy to make and don't take any special gear.
You don't have to be a mixologist to up your game. By simply grabbing a unique mixer, you can transform that everyday drink into something unique.
Illy Issimo
Illy is well known for their ground coffee and, like many coffee companies, they've expanded their offerings into the canned coffee space. They offer two great options which can be easily mixed with a spirit to make a tasty drink.
Illy Issimo Mochaccino is a creamy, lightly sweet coffee drink that mixes extremely well with Amaretto (just pour 1/2 can over ice and then add 1/2 shot of Amaretto and stir), or make an pseudo iced Irish coffee by putting the Issimo Mochaccino over ice and adding Jameson to the mix.
Illy Issimo Cafe has no sugar and no milk, so it mixes very will with creamier liqueurs like Baileys Irish Cream.
Just Chill
Red Bull is an extremely popular option in the "spirit and a mixer" category, but it's not a great option when you are looking to chill out at the end of the day. Just Chill is the proverbial yin to Red Bull's yang. Instead of amping you up with caffeine, it's uses L-Theanine, Lemongrass, Ginseng and Ginkgo Biloba to put you in a relaxed but not drowsy state of mind.
Just Chill works perfectly when mixed with vodka, rum, or even the herbal liqueurs like Jager. It's also a nice mixer with Plymouth Gin, a little mint, and cucumber. A little goes a long way with Just Chill.
ALO Drink
Made from aloe vera juice and pulp, these refreshing juice drinks come in a variety of flavors, including:
Appeal (aloe vera, pomelo, pink grapefruit& lemon) mixes extremely well with gin and can be mixed with vodka.
Enliven (aloe vera + twelve fruits and vegetables) mixes with vodka or tequila over ice.
Allure (aloe vera, mangosteen and mango) and rum go very well together.
Elated (aloe vera, olive leaf tea) is another good one to mix with gin or vodka.
Enriched (aloe vera, pomegranate, cranberry) mixes with rum or vodka.
Exposed (aloe vera and honey) is great with rum or vodka.
Awaken (aloe vera and wheat grass) is fantastic with a rye or vodka.
Changing up your game and trying something new doesn't have to involve complex cocktails. By swapping out your standard mixer with something interesting, you can elevate your simple drink into something unique and tasty.