Shawn Ford - Bartender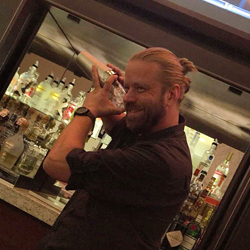 - interview by Sara Gorelick
Sara had the opportunity to chat with Shawn Ford, who currently works in the Dominican Republic when he's not consulting with Jon Taffer on Bar Rescue. An incredibly gracious man, Shawn has had what he calls "a blur of a year that doesn't seem to be slowing down anytime soon." Read on to hear about how Shawn has worked his way through the industry and what Jon Taffert is really like.
SG: Tell me a bit about yourself.
SF: I'm a father of two amazing kids who has been on his own since he was 17. Wanting to enjoy the social scene and having to fully support myself caused quite an issue, and my answer was to become the guy in the social scene actually making, not spending money. I fell in love with the bar industry as a newbie bartending on the beach in Ocean City, MD, and by committing to becoming the best Barman I could be (and never being content) has afforded me opportunities and experiences that a kid from the streets might not have been able to otherwise. While in OC I got my degree from Worcester Wicomico College in Salisbury, MD. After graduating I was forced to decide what I wanted to be when I grew up and the answer was one I always knew, the best Barman I could be. Family and friends haven't always understood, most even doubted my decision, but now they all support my choice wholeheartedly.
SG: What is the bar that you currently work at, and what is it like? What makes it special?
SF: I am currently on assignment in Puerto Plata in the Dominican Republic working as the VIP Bar Manager/Consultant for Lifestyles Holiday Vacation Resort. It is a picturesque 5 star resort with maximum occupancy around 5000 guests. I'm responsible for training staff and rewriting the beverage program for almost 30 bars. What makes it special for me is the opportunity to help elevate the skill set of some pretty amazing people, who find themselves with the struggles and limitations that unfortunately come from being a native of a third world country. When I teach them a new skill they can apply it immediately and see a reward that's tangible and quantifiable and improve their employability which is critical in a country where it may take you 8 months to a year to find employment because the workforce is so saturated.
SG: Where are you originally from?
SF: I am from northeastern Ohio. I would call the Cleveland/Akron area home.
SG: How would you describe your career currently?
SF: I would describe my career currently as "faith rewarded." I've been on the grind in this industry for over two decades, taking pride in my profession, seeking out any training, class, seminar or opportunity to further my knowledge and understanding of alcohol, the bar industry and people in general. Being a male in this industry has not always been easy. One of the biggest fallacies of the bar industry is that a short skirt and perk cleavage, even if it's void of work ethic, experience or professionalism, will drive more business than a highly qualified male. That's far from the truth and thankfully no longer the common opinion. I'm just thankful to have been able to navigate the rapids the last two decades to finally see our industry revert back to one that's driven by skill set and customer service and not just sex appeal.
SG: What"s the best part of your job?
SF: People. No two nights are the same. I continue to meet some amazing people.
SG: And the worst?
SF: People! I still get to see the worst that life has to offer in people but rather than be jaded I prefer to just appreciate great people even more.
SG: Do you have a favorite spirit or cocktail?
SF: My favorite spirit is easily Bourbon, and my favorite cocktail is a boozy, sweet and delicious properly made Old Fashioned (that means no muddled orange and cherry please!!).
SG: What do you drink at the end of your shift or to wind down?
SF: A session style IPA and a Bourbon on the rocks.
SG: What are you most proud of?
SF: Besides my two children? That I've been able to make a career in an industry that people who have limited knowledge about don't take seriously. I love the service industry, and I have a degree and varied skill sets but when I had to choose what I "wanted to be when I grew up." This industry chose me, and I've been in love with it ever since.
SG: What do you want people to walk away from your bar saying?
SF: That was by far the best experience I've ever had in a bar. I teach staff that "it doesn't matter whether your slinging whiskey or widgets; you're in the same business: the people business." Be sincere, be genuine, be efficient, be knowledgeable, be personable, be humble - and people will migrate to that.
SG: What are you doing with Bar Rescue?
SF: I got hired by Bar Rescue to appear on the show as their Bar Expert. I travel to locations across the country to help Jon and some incredibly talented chefs help people who desperately need it. Mentoring is the most rewarding part of my career and I'm incredibly grateful to Jon and the Bar Rescue family for allowing me to embrace and apply that part of my skill set.
SG: What"s it like working on the show?
SF: Working on the show is an amazing experience. We are placed in a pressure cooker. We literally do 90 days of work in 4 days. To be a part of a group of people who swarm a failing business, full of employees and owners who genuinely are in dire straits, and to come together as a team where everyone is empowered to apply the expertise we were hired for, from the carpenters to the directors to the cameraman and audio techs, all working like a machine to one common end. That end is saving a group of people who desperately need it, whether they brought it upon themselves or not is irrelevant, they need our help. To see where they are when we leave, to literally see their complete physiology change because they are now filled with hope rather than despair and believe they now have a legitimate chance to right their ship is incredibly rewarding.
SG: How is Jon Taffer in person?
SF: To say that Jon Taffer is one of the smartest people I've ever met would still not be giving him enough credit. He's brilliant. Jon is genuine, he's kind, he's incredibly knowledgeable and he really truly cares. But if you're going to be all those things you can't pull punches, you have to be stern, and nobody is better at administering tough love than Jon Taffer. He once explained it to me by saying (and I'm paraphrasing here) "Shawn you gotta understand, if we're gonna get 90 days worth of work done in 4 days there is no such thing as a small issue. Things we might normally be able to coddle them about we have zero time for." That really stuck with me. If you watch the show with that understanding you'll get more out of it, I promise you.
SG: How bad are the bars when you go in, and what are the retention rate of the changes you and your coworkers make?
SF: It would blow your mind to see how far these places have fallen, if you need an example just look at the used condom that was found behind the bar in the episode entitled "Gettin Freaky at the Tiki," or just tune into my next episode, June 26th, when my friend and colleague Chef Ryan Scott finds the worst thing he or I've ever seen in this industry....EVVEERRRRR!! As far as retention, most of these bars do a great job. Those that don't are usually the ones with owners and managers who are too prideful or stubborn to stick to the game plan we laid out for them and with them.
SG: Anything else you'd like to say?
SF: I'd just like to take a moment to thank all the amazing mentors and peers I've been blessed enough to be influenced by as I've traveled the globe doing what I love. I only hope that I can have a similar impact and influence on some of the staff I get to rescue on the show. That would mean more to me than any amount of money I could make in the process.