Jenn Corrao - Marketing Freelancer
- interview by Sara Gorelick
Sara sat down with her friend Jenn Corrao, an events and marketing freelancer. Sara met Jenn while working in the industry, and the two hit it off. Not only has Jenn dabbled in many different aspects of the booze world, she also really loves her cocktails and the friends she has made over the last 15 years in hospitality.
Read on to learn all about how Jenn started in the industry and why she is called Reverend Corrao.
SG: Where did you grow up?
JC: I was born in Southern California and lived there until I was 14 years old. Then I moved to Northern Cali outside of Sacramento. I moved to San Francisco when I was 18 and lived there for 11 years, and consider it to be "my home." It is where I feel I grew up and came into my own as an adult. And my parents now live in houses I never lived in and in cities I don't feel a connection to. So when I "go home," I go to SF.
SG: Nice. What did you want to be?
JC: For most of elementary school and junior high I wanted to join the Coast Guard because I thought the Coast Guard got to travel the world and save the ocean. When I realized that wasn't what it was all about I wanted to go into fashion merchandising and marketing. Then I realized that fashion wasn't for me and I wanted to be in food and beverage.
SG: Smart choice. After all, not all those guys in the Coast Guard look like Kevin Costner and Ashton Kutcher in "The Guardian." What was your first job?
JC: When I was 15, I worked at Little Caesar's Pizza. I worked there for nearly two years and had a blast!
SG: What was your first industry job and how did you wind up in it?
JC: Does Little Caesar's count? My first job in the bar industry was as a Peachy's Puff. A Peachy's Puff is something very unique to San Francisco and when I started in 2002, it had been around for over 10 years. I would dress up as an old fashioned cigarette/candy girl and go bar to bar selling cigarettes, candy, mint, gum, light-up stuff, etc. from a tray around my neck. It was a lot of fun while it was fun, but after almost two years I had had enough. The job gave me the opportunity to interact with a wide variety of people in different bar settings and played well with my outgoing personality.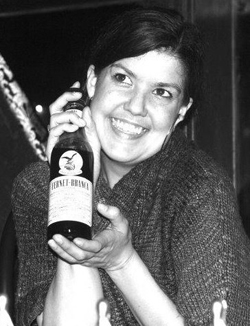 SG: Tell me about Cantina in SF, where you used to work as Director of Marketing and Events. How was it working with the great Duggan? What did you do there?
JC: Anyone who has ever been a part of Cantina is very proud of what we did and what is still going on there. Cantina is special because while it is a cocktail bar, I used to say "We talk about cocktails seriously but not ourselves," because we encouraged people to have fun and be in a bar and dance and chat and interact and get to know others. No TVs, super long bar top and an amazing bar back make Cantina a great place to meet people. I loved it because working there we were like a family and we also had some of the most amazing customers and some who have since become good friends. Anyone who knows Duggan knows what a big personality he is. But, he is also very good at what he does and I think he's got one of the best palates in the industry. He really understands trends. I learned a lot from working with Duggan and am so fortunate to have been able to. He has a way with guests, cocktails and what Cantina is and is known for stems from Duggan.
SG: So what did you do there?
JC: I did everything but bartend. Cantina has a rotating gallery space upstairs that I curated. There is a private event space downstairs that I managed - booking the space, managing the parties, etc. I did PR and marketing for Cantina, from representing the bar at offsite events to developing Facebook and Twitter presence to all inbound communications such as emails, post, etc. I did inventory and scheduling and mommy'd as well. When we were slammed I could also be seen barbacking and assisting in whatever needed to get done, especially on Friday and Saturday nights when I managed the main floor. If we were short a security person I would check IDs and if my bartenders were hungry I would make food runs. Seriously, pretty much all I didn't do was bartend but I can shake a bomb a** virgin fruit punch!
SG: How did you wind up in NY?
JC: Moving to NYC had been in my heart since I was young; I visited a few times as a young child because my dad is from upstate NY and when I was 17 I went to NYC for my high school graduation trip. I moved to SF at 18 and was working with the Gap; at the time Gap had design offices in NYC and I thought I would work for the company in SF for about 10 years and then transfer to NYC and retire from the company 30 years later. Well, I left the Gap long ago but living in NYC never left me. Plus, after not owning a car for 10 years because you don't need one in SF, there aren't many places in the US you can move and be without a car. I can't wrap my head around having to drive to and from places all day every day, and in NYC you don't need to.
SG: So what are you doing here now?
JC: I freelance in marketing and events and I love it. My main project right now is with ShakeStir and I have been a part of it for nearly nine months. I have also done some event activations with various brands in NYC and around the country.
SG: It's a random Tuesday night. Where are you and what are you drinking?
JC: Hmm...not sure where because it depends on who is working. But, I can almost guarantee you that at some point in the night I will have Fernet - maybe sipped on neat or in a cocktail, but yes, Fernet will be involved. I also love Mezcal, Tequila and Miller High Life. When in the mood for a cocktail, I like simple three ingredient stuff best and love booze forward and herbaceous. The Last Word is one of my favorites and if I am someplace that knows how to make it, a go to.
SG: Something silly we should know about you.
JC: I love ladybugs; they are my favorite thing. I bounce when I am happy. And I am afraid of the dark and heights.
SG: You seem to know everyone. How is this possible?
JC: Ha! When I was young my mom used to embarrass me because she would talk to anyone and everyone. My fearlessness of talking to people came from her and I think that has something to do with this. While I hate crowds, I love people and have been a people person since I was young. In junior high my mom called me a social butterfly. I've never had a "group" of friends, rather I've always had friends from all over.
SG: You like to travel. Where will you be next?
JC: No, I don't like to travel. I LOVE to travel, it's all I've ever wanted to do and I don't think that will leave me anytime soon. My next trip is taking me to the Philippines to marry my Aussie sister and her fiance and good friend of mine that I introduced her to. I am Reverend Corrao.
SG: Greatest industry achievement?
JC: Cantina. And making the decision to move to NYC - choosing to follow my heart.
SG: Greatest life achievement?
JC: I hope it's something that I have been able to give as a person, friend, daughter, sister. I think life achievements are not about what we do but how we affect those around us, especially those we love, hopefully by giving them the courage to fulfill their dreams and achieve what they didn't think possible.