Aberlour 10 year Single Malt Scotch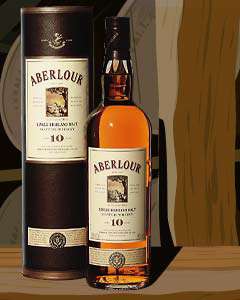 This is a definitive example of a Speyside Single Malt. It is matured in a combination of sherry and bourbon oak casks for a minimum of 10 years.
Tasting Notes…
A classic Speyside single malt, matured in a combination of bourbon and sherry casks. Welcoming, vibrant and rewarding.
Colour
Gold.
Nose
The dry, fresh, fruity aromas of early autumn apples and pears are subtly enhanced with sweet notes of vanilla and mint toffee.
Taste
Exceptionally smooth and creamy, with spicy-sweet nutmeg and honey combining with the dewy freshness of autumn fruits.
Finish
Long, soft and warming.