Yamazaki, Let the Good Time Roll
by Paul Zablocki and Steve Schul, Cocktail Buzz
Suntory makes an incredibly smooth whisky, 12-year Yamazaki. According to its Web site, it's "a medium-bodied whisky with the aromas of dried fruits and honey. It has a delicate, mellow taste with a lingering, woody, dry finish." We agree. If you're not a scotch drinker, but you like the mellowness of some Irish whiskeys, give this unique and excellent single malt a try. It's aged in Japanese oak, lending it a gentle woody earthiness. Mix with a little water, and this whisky can be drunk with dinner (order in some sushi and other Japanese appetizers, and pour yourself some as you wait for the buzzer to ring).
So, in true geek fashion, we thought we would challenge each other to come up with a drink that showcases Yamazaki's mellow smokiness. This cocktails are terrific for early fall, as peaches run their course, and pears loom large.
The "Bank of Japan" is the name of the first drink, and the path we took to come up with the name was long forgotten after a few rounds of these coolers.
Bank of Japan, light source 1
The first thing to think about when mixing single malts is sometimes it's difficult to mix well (the flavors of most single malts can be slightly overpowering when combined with liqueurs that cannot hold themselves up to certain whiskies' pronounced flavor profiles). Mulling around the liquor cabinet, Paul thought that the addition of Midori, another Suntory product, might just be the sweetness that this 12-year Yamazaki needed. Midori, as you all know, is a melon liqueur, and a guilty pleasure in the Zablocki-Schul (or Zul, if you prefer) household - it's an ingredient in The Universe, which won First Prize in the the 1978 U.S. Bartenders Guild Annual Competition, and was a favorite at the bacchanalian Studio 54.
The addition of Midori did add just the right amount of sweetness, and also a tantalizing fruitiness, to the Yamazaki Whisky, but something was missing. The characteristics of what makes single-malt whisky, whisky, were now suppressed. How to bring them back? Another glance at the liquor cabinet revealed the super-bright yellow bottle of Strega. Italian for witch, Strega is a brew of spicy, herbal wonderment. Just a little bit of this liqueur goes a long way, so after a splash, and a few drops of Peychaud's Bitters to round out all the flavors, we threw in some ice and garnished with a slice of pear (apple works just as well) to welcome the fall into our home. The color is gorgeous, and changes from a bright yellow, to a glowing chartreuse, depending on the light source (see photos).
Bank of Japan, light source 2
Now as we enter the fall, and are sitting outside on our terrace, or back porch, or near an open window, we can sip our Bank of Japans, breath a sigh of relief knowing that in less than half an hour we'll be ready for another one. Kampai!
Our second cocktail, one of Steve's creations, is the "Tokyo Momo." Momo is Japanese for peach, and this rocks drink uses a muddled white peach shaken with the Yamazaki 12-year to create a deep and complex combo. But that's not all. Steve also added two unique liqueurs that complement the sweetness of a peach: Cherry Heering and Dumante Verdenoce Italian Pistachio Nut Liqueur. He decided on these two liqueurs for several reasons. First, he realized that the strong scotch-like flavor of the Yamazaki whisky needed a strong counterpoint to balance it, and Cherry Heering is such a liqueur to do the trick.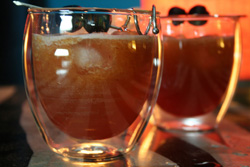 Tokyo Momo
Second, being a pie lover, Steve knew that bittersweet cherry mixed with peach is a great combination. But what other flavor would add to the complex fruitiness already brewed? That's where the third element comes in. Nuts. Something nutty, like the refined beauty of the Dumante pistachio liqueur, with its complex nutty sweetness, was a perfect addition. A drop of whiskey bitters brings all the flavors together so that the Tokyo Momo tastes like you made a peach cobbler and let the juices run over the side of the pie crust. One sip and we proclaimed our love for the early days of fall.
Bank of Japan
(created by Paul Zablocki)
1 1/2 ounces Yamazaki 12-year whisky
1/2 ounce Midori melon liqueur
1/4 ounce Strega
2 drops Peychaud's Bitters
splash of soda
Stir first three ingredients in ice for 30 seconds. Pour into rocks glass. Add ice. then bitters. Top with soda. Add red pear slice (such as Clapp, Red Bartlett, or Red Anjou), or red apple slice, as garnish.
Tokyo Momo
(created by Steve Schul)
1 1/2 ounces Yamazaki 12-year whisky
1/2 ounce Heering cherry liqueur
1/2 ounce Dumante pistachio liqueur
2 drops Fee Brothers Whiskey Barrel Aged Bitters
quarter of a white peach
brandied cherries, or peach slice, as garnish
Score the white peach, flesh side, making sure not to go all the way through the skin. Muddle in a shaker. Add the whisky, liqueurs, and bitters. Fill two-thirds with ice. Shake for 30 seconds. Strain into ice-filled rocks glass. (If you're having trouble straining, be patient and keep shaking and straining. If you're not that patient, then strain the mixture all at once through a sieve into a pitcher.) Garnish with brandied cherries on a skewer or a peach slice (or both).
For more cocktail and party food ideas, visit us at CocktailBuzz.com.
Photo (c) Cocktail Buzz